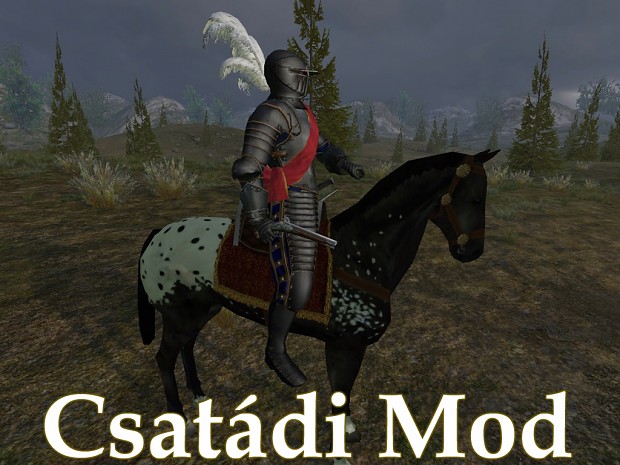 Nombre del Mod
: Csatádi's Visual and Historical Mod
Para
: With Fire & Sword 1.43
Versión
: 1.3
Tipo de Modificación
: Jugabilidad/Gráficos
Autor/autores
: Csatádi
Agradecimientos y Colaboradores
:
Spoiler:

Prince de Radzivil for the amount of historical info, pictures, ideas and a bunch of flag textures. Without his contribution the current patch (1.3) would have been far smaller.
Horse textures to Wanderer949 and Saregona (I used them as a base.)
Hussar lance transforming script to Gaunt
OpenBRF to Marco Tarini (mtarini) and his numerous contributors
WB/WFAS Editor to Michael Rietbrock (Morgh)
Help with script installation and ideas to Paulgrrr
Weimar helmet to dejawolf
Burgonets to Jan Tuma
help to Maxim Suvorov
Goldened black armor texture to Shredder
Link al post de desarrollo
[Tienes que estar registrado y conectado para ver este vínculo]
Descripción
: El mod arregla bugs del juego base, añade 3 nuevos compañeros, redifine el mapa, añade muchos objetos y da una mejor ambitación histórica al juego.
Características
:
Texto original:

-Some maintenance costs reduced, villages provide less money while castles produce more.
-Map changes.
-More native settlement names. New settlement names are implemented in en, de, tr, fr, es language packs. I don't have the other variants but if you have them you may change them or send me those packs.
-Ramun the slave trader replaced to Bakhchasaray (sic!).
-Hungarian hussar clothing, helmet and shield. Available only in shops.
-Banded noble armors, greaves, feathers for nobles' helmets, painted horse.
-New moustache types and wig (as hair).
-New map icons (tatar raiders, deserters, caravan)
-Historical lords, flags and bugfixes.
-Even more siege bugfixes.
-Even more historical economy chages.
-Faction colors resemble to the real standards of the countries.
-Small fixes.
.
-3 new companions with dialogs. Some rewritten relations.
-Companion refinements: faces, equipment, abilities
-20 village bugfixes (replacing all the Swedish and some Polish ones)
-Siege bugfixes.
-Corrected Turkish shields, they are held now in the right angle. (see the picture below)
-New, historical faces for rulers (see pictures in the forum), helmets and better equipment for lords
-Item rebalances, for example the special handmade things are better than the ordinary ones. In my mod not the Dutch pistol is the best gun while mounted but the Dutch carbine. Single barrelled guns are a little bit better than double barrelled ones. Pistols are less accurate because it was strange to shot down somebody from 50-80 meter distance. There are now good sabres. Horses are expensive - as in reality. Textile armors are cheap so you can waste some money on them before you can afford a real armor.
-Nationalized items. You can buy Swedish items only in Sweden etc. There are a few exceptions but not much.
-15 new or retextured horses. Arabian horses from warband, Akhal Teke horses - well known in the area and further Thoroughbred variants. Special horse merchants offer 3 unique horses.
-New helmets and armors, Turkish-Eastern European Broadsword, map icons, moustaches, Asian face texture, etc.
-Hussar lances transform to sabres after the first blow. Hussars were useless in close combat with those huge lances.
-Guns cannot parry or used in melee because the AI uses it wrongly parrying a lot when there is no enemy around. Maybe the AI behaves the same but parrying with swords and shields look less comic.
-Reiter-type soldiers have only 3 bullets for their firearms because they should use their swords more than pistols. These 3 bullets are more deadly (+7). They are available in shops as well. I use them for my companions, too, because I guess they kill more with melee weapons.
-Hungarian Hussar mercenaries.
-Flour sack, Silk and Wool cloth texture change. Flour sack used the salt texture and their same look was very annoying. Wool cloth and Silk were the same like linen cloth.
-2 new settlement icons
-The map icon of the settlements are now similar to the wall type on the battlefield. Sometimes it was disturbing to see a stone fort on the map and meet a wooden pallisade in the battlefield. They might need different tactics so I find this better.
-All castles got 'castle' or 'fortress' tags in their names to avoid confusing them with cities.
-Some city location changes
-Economy changes: For example I limited olives where they were actually produced, put salt resource to Cracow to represent the famous Polish salt mines, and limit the date fruits to Crimean cities. Date was produced in far Southern lands but it may appear in the Crimea by trade. And made Reval a mediocre velvet resource. European velvet production was important and Brugge was the most important source for Northern Europe. Removed grape production of Vilna because grape can be produced only on a small southern part of the map and not at all so far north.
-Elite black armor got gold decorations.
Castellano:


-Los costes de mantenimiento reducidos
-Algunos pueblos ofrecen menos dinero mientras los castillos producen más.
-Cambios en el mapa.
-Pueblos renombrados aplicando nombres nativos.
-Ramun el Esclavista reemplazado a Bakhchasaray.

-Ropa de Husar Hungaro, casco y escudo. Disponible sólo en tiendas
-Banded noble armors, greaves, feathers for nobles' helmets, painted horse.  (No se traducir esta linea, perdon)
-Nuevos tipos bigote y peinados.
-Nuevos iconos para las unidades en el mapa.
-Renombrados los lords, banderas y correcciones de errores.
-Cambios mas historicos en la economia.
-Los colores de las facciones se asemejan a los estándares reales de los países.
-Pequeñas correcciones.

-3 Nuevos compañeros con sus historias, algunas relaciones han sido reescritas.
-Retoques en los compañeros en las caras, armaduras y habilidades.
-20 pueblos corregidos (etodos los suecos y algunos polacos)
-Correcion de bugs en los asedios.
-Corregidos los escudos turcos, se empuñaran en el angulo derecho.
-Nuevas cara para los gobernantes y un mejor equipamiento.

-Item rebalances, for example the special handmade things are better than the ordinary ones. In my mod not the Dutch pistol is the best gun while mounted but the Dutch carbine. Single barrelled guns are a little bit better than double barrelled ones. Pistols are less accurate because it was strange to shot down somebody from 50-80 meter distance. There are now good sabres. Horses are expensive - as in reality. Textile armors are cheap so you can waste some money on them before you can afford a real armor. (No entiendo casi nada de este párrafo, perdon de nuevo)

-Articulos nacionalizados,  puedes comprar artículos suecos sólo en Suecia, etc Hay algunas excepciones, pero no muchas.
-15 Caballos nuevos o retexturados. Caballos árabes de partida de guerra, caballos Akhal Teke  y otras variantes de pura sangre. Comerciantes especiales de caballos ofrecen 3 caballos únicos.
-Nuevos Cascos y armaduras, Turkish-Eastern European Broadsword (Espadon Turco Europeo del Este), iconos del mapa, bigotes, texturas para rostros asiaticos etc.
-Las lanzas de los Hussares se transforman a sables tras el primer golpe. Los húsares eran inútiles en combate cuerpo a cuerpo con esos enormes lanzas.

Guns cannot parry or used in melee because the AI uses it wrongly parrying a lot when there is no enemy around. Maybe the AI behaves the same but parrying with swords and shields look less comic. (Dice algo asi como que los fusileros se paran cuando atacan cuerpo a cuerpo pero no estoy seguro, perdon de nuevo)

- Los soldados de tipo Reiter tienen sólo 3 balas para sus armas de fuego, ya que deben utilizar sus espadas más que las pistolas. Estos 3 balas son mortales (7). Están disponibles en tiendas también. Yo las utilizo para mis compañeros, también, porque supongo que matan más con armas cuerpo a cuerpo.
- Mercenarios Husares Hungaros.
-Cambiada la textura del saco de harina, seda y lana. El saco de harina usa la textura de la sal y su mismo aspecto era muy molesto. La lana y la seda eran la misma tela pero con diferente color.

-Economy changes: For example I limited olives where they were actually produced, put salt resource to Cracow to represent the famous Polish salt mines, and limit the date fruits to Crimean cities. Date was produced in far Southern lands but it may appear in the Crimea by trade. And made Reval a mediocre velvet resource. European velvet production was important and Brugge was the most important source for Northern Europe. Removed grape production of Vilna because grape can be produced only on a small southern part of the map and not at all so far north.(no lo entiendo del todo pero dice algo asi como que los objetos han sido cambiados y solo se venden donde eran producidos en la vida real)

- Añadidos detalles dorados a la armadura negra de elite
Imagenes
Spoiler:
DESCARGA
Csatádi Mod 1.3
[Tienes que estar registrado y conectado para ver este vínculo]